It's turning into a month of celebrations for Wide Sky Design's clients. First we hear about Woodhall Spa's success in the East Midlands Heritage Awards and now there is more to celebrate as St Martin's Church win the John Betjeman Award for the sensitive restoration of the unique Evelyn Gibbs murals as part of their Hidden Treasures project. The award is given by SPAB (the Society for the Protection of Ancient Buildings) to celebrate excellence in the conservation and repair of places of worship of any faith.
The judges visited on 28th May and commented that "the project had resulted in a space of beauty and serenity but had clearly been a catalyst for wider benefits", which exemplifies the aims of the Hidden Treasures project.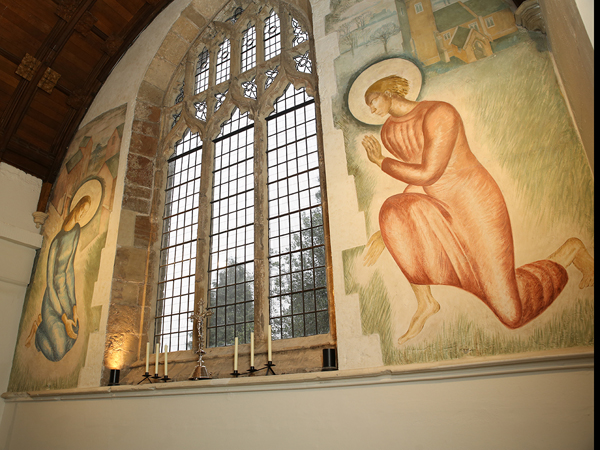 The murals depict the Annunciation, the moment the Angel Gabriel tells Mary that she is going to have God's son. They were completed in 1946 by Evelyn Gibbs, one of the few women war artists, and are believed to be the only surviving examples of her large scale painting. In 1972 the paintings were lost to view when an unsympathetic, modern extension was added to the church and later believed destroyed. They were rediscovered in 2009 when electricians were working in the ceiling. Photographs were taken and shared with English Heritage who got very excited about the find and recommended a conservation report be carried out.
An anonymous donation of £1,000 sparked interest in the possibility of the restoration project and Heritage Lottery funding made it a reality. As well as the paintings, the church has seen repairs and restoration to a blocked up east window and Victorian barrel-vault ceiling, the installation of underfloor heating and a new stone floor laid.
Judges also noted the "commitment to community involvement and education embedded in the project" which is where Wide Sky Design have been delighted to play a part by capturing the restoration works using time lapse photography and developing a tablet tour to help visitors explore significant points around the church and a "pop-up" lectern to take the story of the church out to the wider community.