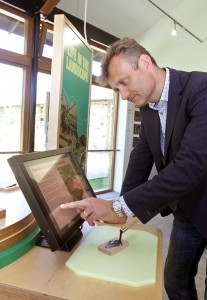 Hugh Dennis recently opened the new 'Lime & Ice' exhibition at Sutton Bank, part of the fabulous North York Moors National Park. Wide Sky Design delivered three interactives enabling visitors to explore the diverse history of Sutton Bank and the surrounding area. Using our ever popular RFID technology to turn beautifully crafted replica artifacts into an integral part of the experience visitors explore millions of years of geology and thousands of years of human habitation. The interactives are all driven by our content management system enabling the visitor centre staff to add new content and new objects.
For those visitors with artistic ambitions there is also the chance to create their own Turner painting and have it emailed to them as a souvenir of their visit.
Photo provided courtesy of The Northern Echo.