Back in June, we introduced the concept of our Gesture Wall which will feature at Heritage Quay, the new home for the University of Huddersfield's Archives and Special Collections.
Back then we could show you a prototype but we're thrilled to be able to show the latest video shot during our integration testing.
The Gesture Wall is a 7 metre interactive curved wall, driven by human gesture, with surround sound and dynamic archive database integration.
The Heritage Quay archive centre will make the University's heritage collections more accessible to everyone, free of charge, thanks to a grant of £1,585,000 from the Heritage Lottery Fund.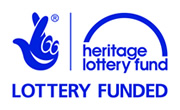 Supported by the National Lottery through the Heritage Lottery Fund.